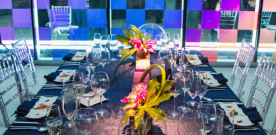 Pavilion XXIX
When:
Saturday, November 1, 2014
Where:
Tampa Museum of Art
The mother and daughter team of Tilda Brabson and Anderson Wakefield, co-chaired a spectacular evening to benefit the Tampa Museum of Art's exhibitions and educational programs. The evening's presenting sponsor was PNC Bank. The black tie gala included a colorful artwork installation, Translucence by Luftwerk. The lighting covered all 48 panels of the glass in the lobby and atrium by Chicago-based artists, Sean Gallero and Petra Bachmaier.
Guests also enjoyed entertainment by iLuminate, a dance company based on the fusion of technology and dance. The museum brought down the lights and guests watched as the dancers moved to the beat in their special illuminated costumes. The unique live auction experiences including a trip to Cuba, to be enjoyed with Parke Wright IV and a Dominican Republic Adventure for Four, helped to raise more than $280,000 for the museum.
Chef Marty Blitz of Mise en Place prepared a delicious dinner and desserts included tasty treats from Chocolate Pi.
The After Party chairs were Megan and Sean Quigley, who brought in young supporters to end the night dancing to DJ InPulse.
Photography:
© Amy Pezzicara, Pezz Photo — www.pezzphoto.com
Share
About Author
(0) Readers Comments
I see ideas for my wife's birthday!

I can't wait to try a few of these recipes. Thx.