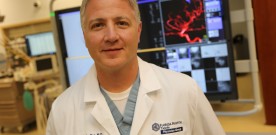 ---
According to the American Heart Association (AHA), every minute without treatment during a major stroke, the brain loses 1.9 million neurons, 14 billion synapses, and 7.5 miles of never fibers. The quicker a stroke victim can get quality treatment improves the chance for survival and lowers risk for major disability.
The AHA recently updated their recommended treatment guidelines for stroke patients to include a device that can pull a stroke-causing clot from the blood vessels in the brain. This treatment, called intracranial mechanical thrombectomy, begins with an incision in the patient's upper thigh. A small, long tube is threaded through the arteries and veins of the body and is directed into the brain where the clot is. A wire mesh device captures the clot and pulls it out of the body with the tube.
"Treating acute strokes with this procedure has proven to be very effective," says James Lefler, MD, neurointerventional radiologist and co-director of the Florida Hospital Tampa Comprehensive Stroke Center. "Florida Hospital Tampa has been actively involved in intracranial mechanical thrombectomy since the devices were first on the market in 2012. We are currently one of only a few hospitals in the Tampa Bay area equipped to perform the procedure."
Florida Hospital Tampa was one of the first in Florida accredited by the Agency for Health Care Administration as a Comprehensive Stroke Center.
Discover the Florida Hospital difference at www.InspiredTampaBay.com.
SPONSORED 
Share
About Author
(0) Readers Comments
I see ideas for my wife's birthday!

I can't wait to try a few of these recipes. Thx.