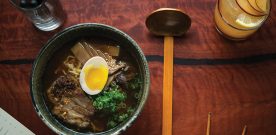 ---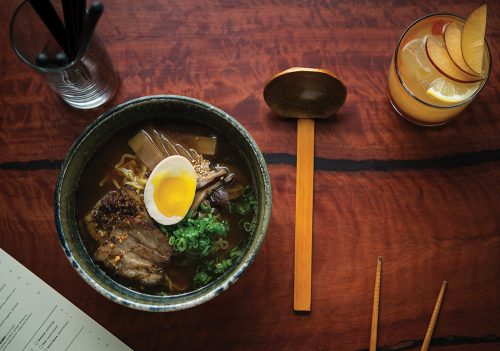 Ichicoro Ramen
By Ronda M. Parag
We all remember the ramen noodles that we ate in college for about 25 cents a pack; those noodles offered a great value and filled the hungry belly of students everywhere; but times have changed, and now Ramen and Noodle bars have become so popular and trendy, that Noel Cruz and his team decided the time was right to open Ichicoro Ramen in Seminole Heights almost six months ago. "We had an entire team of six relocate from New York," said Cruz. "Seminole Heights felt to be the right vibe. I'm friends with other restauranteurs in the area, the neighborhood is good and I felt like it would be accepted."
Click on a photo to enlarge or view gallery as a slideshow
True Ramen is a labor of love with  creating the broth that can take up to 20 hours to complete. "With the exception of the noodles, everything is made onsite and from scratch," said Cruz. "Our noodles are a custom recipe made by Sun Noodle, and we source as much locally as possible and that is indigenous to the area."
"Ramen is identifiable to nearly everyone," said Cruz. "It's been a learning curve for the broth and accompaniments. Noodles are number one, but the broth is of equal importance. Everything else enhances the dish." The menu offers about five broths on the lunch and dinner menus.  The best seller is the Champon Ramen that is pork/chicken broth, grilled gulf shrimp, chasyu asado (braised pork), ginger tempura, scallion, corn, shiitake, and sesame. The Shoyu Ramen is also popular with a chicken broth, chasuya asado (braised pork), ajitama (seasoned egg), menma (bamboo shoots), scallion, and nori. The open concept kitchen allows diners to view the activity in the kitchen with a full team of five people on the line.  "We have a grill that allows us to add a smokey element to the pork and we char-grill the vegetables," said Cruz.
Lunch offers Rice Bowls and Snacks in the bar from 4 – 5 pm. For dinner, the Pork Steam Bun and the Smoked Brisket Steam Bun are perfect to share as each are served with 2 buns. "Right now, Ichicoro is the only one pushing the diversity in Ramen," said Cruz. "We are trying to get more focused and just have fun."
The interior of the restaurant is sophisticated, yet casual with a lot of design elements. The bar offers a perfect perch to grab a drink while waiting for a table. "We did put a lot of thought into the bar menu," said Cruz. "It's small, but mighty."
No reservations accepted, but by using the DineTime app, diners can hold a spot in line and receive a text message when a table is ready.    M
---
Ichicoro Ramen
5229 N. Florida Ave.
Tampa, FL 33603
813-517-9989
www.ichicoroya.com
---
© Tampa Bay Metro Magazine & Blog  |  A Metro Life Media, Inc. Publication
Share
About Author
(0) Readers Comments
I see ideas for my wife's birthday!

I can't wait to try a few of these recipes. Thx.