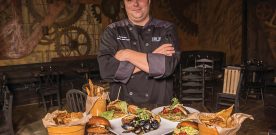 ---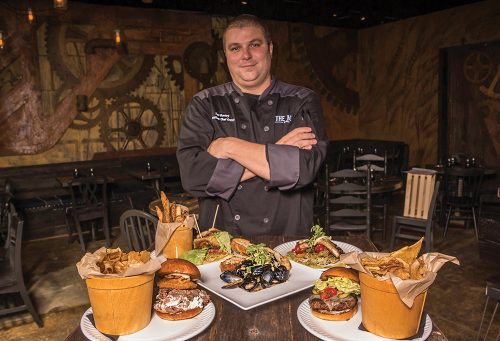 The Mill in St. Pete
By Ronda M. Parag
The dining scene in downtown St. Petersburg is exploding and the timing is right for the culinary movement. "With the addition of great new restaurants, we are starting to see the revolution take place," said Managing Partner, Ted Dorsey of The Mill. "It's partially due to the unique arts movement that is taking place. People are beginning to seek out restaurants that push the boundaries."
Chef Dorsey says the menu at The Mill has a well-balanced "Rustic Americana" feel. "It's a combination of my southern roots, as well as, my classic French training," said Dorsey.
"We try to allow the food to be the star by not over manipulating the product. Cooking for me comes from the heart, with love."
Cheese and charcuterie can be a meal in itself and the options at The Mill are quite unique. "We wanted to do cheese and charcuterie a little bit different," said Dorsey. "We wanted to incorporate seafood, as well as, proteins. What sets us apart, from others, is we make all of our charcuterie in-house from our lamb bacon, duck bacon, octopus bacon, smoked salmon, pickled shrimp, lengua rillettes and foie gras torchon. Then, we pair those with amazing cheeses and our signature marmalade, mustardo and rye whiskey mustard."
click on images below to enlarge or view as a slideshow 
Open for lunch and dinner, The Mill has a few menu items that are diners' favorites. "Our watermelon bruschetta, sweet pea hummus, lamb shank pot pie and wild boar ribs, are a few of the most popular," said Dorsey. The menu rotates seasonally, with the best sourced local and regional products, and May 1 will see a new menu change.
Chef Ted Dorsey has a stellar culinary background having graduated from Le Cordon Blue and worked with award winning chefs such as Marty Blitz and Bryce Wittlesy. Dorsey also worked on Tampa concepts Ciro's Speakeasy & Supper Club, and Boca Kitchen Bar and Market. He was also responsible for opening and creating the menus and supervising all dining and bar operations, at The Castile Restaurant inside Hotel Zamora.
The drink and bar menu offers twists on classic style cocktails. Dorsey says that Gin will be a hot spirit for summer, along with a resurgence of Rum and sipping rums. "For the summer we will be featuring more tiki like cocktails like the classic Zombie, with more than one style of Rum in one cocktail," said Dorsey. "We will also see an increase in lighter wines such as Rosé, and crisper whites that pair well with the sweet summer heat of Tampa Bay."  M
---
200 Central Avenue
St. Petersburg, FL 33701
727.317.3930
---
© Tampa Bay Metro Magazine & Blog  |  A Metro Life Media, Inc. Publication
Share
About Author
(0) Readers Comments
I see ideas for my wife's birthday!

I can't wait to try a few of these recipes. Thx.