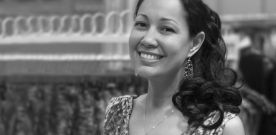 ---
| As Seen In Tampa Bay Metro Magazine |


Inspiring Women In Business
DESIREE NOISETTE
Cerulean Blu

Desiree is the founder of Cerulean Blu, a retailer and manufacturer located in downtown St. Pete.  Desiree has a background as a lawyer, but is thriving in her role as an entrepreneur because it gives her the opportunity to explore possibilities, create jobs and implement industry disruptive business processes. Most recently, Desiree expanded the brand to include the technology-based CBLU Design Kitchen, a "design-to-table" open "kitchen" where she reveals her tricks of print design so that anyone can cook up on-trend custom apparel and home decor to share with friends in just minutes.
---
Cerulean Blu
400 Beach Drive, Suite 161
St. Petersburg, FL 33701
www.ceruleanblu.com
727.498.8984
---
Inspiring Women In Business ® 2016 | © Tampa Bay Metro Magazine & Blog | A Metro Life Media, Inc. Publication
Share
About Author
(0) Readers Comments
I see ideas for my wife's birthday!

I can't wait to try a few of these recipes. Thx.