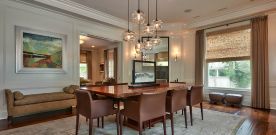 ---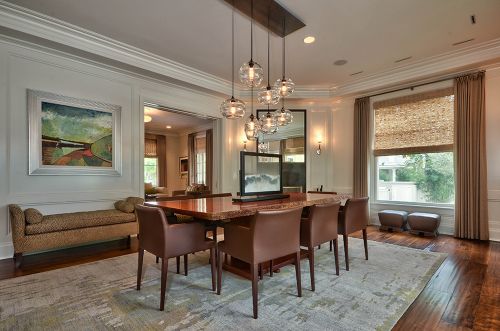 Once the decision was made to hire a professional to help improve their home's interior, the first move made by the owners was to set up a meeting with Enrique Crespo of Tampa's, Crespo Design Group. The owners described their preferred color scheme as comprised of taupes, creams and grays. They reviewed images of rooms that appealed to their aesthetic, defined their lifestyle and accompanied Crespo on shopping trips to South Florida's design district, to find furnishings suitable for their space and in sync with their tastes.
click on images to enlarge or view as a slideshow
They had never really done anything like this before when they decided they were ready to have their home designed," said Crespo, referring to the local residents who requested anonymity. "They had some nice pieces, but those pieces did not really look put together. So we started fresh and bought all new."
The couple's next move? They bought a new home. A nearly century-old residence that the pair had long admired, unexpectedly became available, motivating them to quickly decide to make historic Hyde Park their new neighborhood. Instead of arranging the new purchases in the existing home as originally planned, everything was readied for moving and reconfigured to fit an entirely different floor plan. Fortunately, rather than starting from scratch, Crespo was able to seamlessly integrate all of the acquired elements into the alternate space. He incorporated the same agreed upon neutral color palette, custom-made contemporary furnishings and exotically textured surfaces, to create a serene environment conducive to what was originally envisioned for the family. Final touches have now been artfully applied to the five bedrooms, five-and-a-half bathrooms and more than 5,000 square feet of living space, that became a design focal point for Crespo, following that initial meeting that occurred nearly a year ago. Clean lines, cooling colors and open views imbue the 1920s era home a modern look and relaxing vibe.
click on images to enlarge or view as a slideshow
I really like the warm, organic, contemporary look it has. It feels very natural, not cluttered," said Crespo. "It's sleek but not with a hard edge."
The light shades applied to the walls provide a perfect backdrop for displaying original artwork from the owners' private collection. Hand crafted woolen silk rugs and patchwork rugs resembling vintage pieces, add soft splashes of colors that contrast with the hardwood floors. Two cerused oak chairs and accompanying leather footstools, are perfectly positioned to take advantage of the home's abundance of natural light and create an idyllic reading nook. With 10-foot-high ceilings and full-frame windows and glass doors, the interior is flooded with light, that brings brightness to every room and gives each area a luxurious sense of lots and lots of space. No built-in shelves packed with knickknacks or entertainment centers featuring flat screen TVs have a place here, instead, stately armoires and stylish end tables with striking finishes made from in-laid bone or horn and goat skin, vellum covered door fronts and other esoteric elements, add interest and artistry to each room. "I tried to create a designed interior that would be family friendly and luxurious," said Crespo. "I wanted it to feel like a place that could be comfortably lived in and not just a space to be looked at."      M
–By Mary Lou Janson
Share
About Author
(0) Readers Comments
I see ideas for my wife's birthday!

I can't wait to try a few of these recipes. Thx.