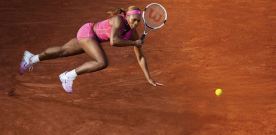 Who Shot Sports: A Photographic History, 1843 to the Present
The exhibition currently on display at the Tampa Museum of Art was created in hopes to bring a new audience to the museum. The 217 photographs by more than 154 photographers showcase different sports from around the globe. "The Tampa Museum of Art is honored to be able to bring to the Tampa Bay community this incredible exhibition organized by the Brooklyn Museum of Art, as the TMA is committed to educating, discussing, and collecting photographs from the mid-19th century forward," said Michael Tomor, TMA's Executive Director.
The museum also exhibits Lens on Tampa Bay Sports, which showcases the local talents of eight local sports photographers, with 40 images of memorable sports moments of the Tampa Bay Buccaneers, Tampa Bay Lightning and others.
METRO had the opportunity to interview curator, Gail Buckland, Benjamin Menschel Distinguished Visiting Professor at The Cooper Union for the Advancement of Science and Art.
METRO: What was your inspiration for this exhibition, Who Shot Sports: A Photographic History, 1843 to the Present, and book?
GAIL BUCKLAND: My previous exhibition and book Who Shot Rock And Roll: A Photographic History, 1955 to the Present (Knopf, 2009) was a huge success. The exhibition was on view at 10 art museums (even the Auckland [New Zealand] Art Gallery. One of the most meaningful aspects of doing the project was bringing people into art museums who don't normally come. Many of the museum directors told me that, a) the opening was the largest or one of the largest in the history of the museum; b) more people came who had never been to the museum.
Rock and roll is one of the greatest social revolutions the world had ever known. The people who documented this revolution had been left out of the history of photography. I wanted to correct this.
Once I began thinking about what other photographers have been left out of the history of photography, I realized that the men and women who have photographed sports with such professionalism, skill, imagination and commitment have also been excluded. Because they had to/have to stop the action, they also innovated and, either on their own or with others, developed shutters, faster films, longer lenses and other technologies that allow us, the viewer, to experience sports in ways we never could solely with our naked eye. They may have been trying simply to "stop the action" but they also have contributed enormously to the technical and aesthetic advancement of photography as well as art and cultural history.
METRO: Are you a sports buff?
GAIL BUCKLAND: I am definitely not a "sports buff." I am a photography "buff," – actually, more than that. I have dedicated my professional life to looking at and thinking about photographs. I approached the sports show and book as I would approach any other research project. I looked at as many books as possible on the subject and at thousands of photographs in museums, personal and other collections and online; I interviewed, first, picture editors from sports magazines and then interviewed almost every living photographer I was considering including in the book. My research took me all over the United States and Europe.
METRO: How does art/photography transcend or overcome the lack of knowledge on subject matter?
GAIL BUCKLAND: A good photograph is a good photograph, regardless of the reason it was made. The critical skills I developed over 40 years apply to sports photographs as they apply to other types of pictures. Also, as a Distinguished Professor of the History of Photography and someone who has written or collaborated on fourteen books of history or photo history, I am in a unique position to tell the story of sports photography starting from the very beginning of photography.
METRO: It seems that you curate and write in themes – Who Shot Sports, Who Shot Rock and Roll. Tell us your thoughts about curating in this manner.
GAIL BUCKLAND: I have curated many exhibitions and written or collaborated many books. The last two projects do reflect a similar approach, but this is not typical of my work. I like to say that I have done everything from writing a book on William Henry Fox Talbot, one of the inventors of photography, and curating the Talbot exhibition at the Morgan Library, to rock and roll and sports. The latter two are major traveling exhibitions that opened at the Brooklyn Museum, accompanied by books published by one of the most distinguished publishers in the world, Alfred A. Knopf.
METRO: Photographers are much like athletes on the field and in the moment. Tell us more.
GAIL BUCKLAND: Sports photographers are highly competitive. They all want the shot that will be remembered after the game finishes or the Olympics end. They train physically because sports photography is very demanding. They perfect their skill, sometimes planning a picture for over a year, and practicing and practicing so that on the day, they have an excellent (but not guaranteed) chance of success. They also tend to love sports and got into the field because of their passion for sports. Many wanted to be athletes, but couldn't make the grade on the field or the court. They ended up on the sidelines and tend to be as happy as can be. Sports photographers often say they have the best job in the world.
Sports is about being in the moment – whether you are the athlete, spectator or photographer. Still photographers are masters of moments.
METRO: Which images are the iconic stand outs? Do you have any favorites?
GAIL BUCKLAND: All the pictures are my favorites, as I looked through thousands to make the final selection. Ultimately, each picture in the exhibition and book was chosen because it is a wonderful photograph in itself that helps carry the story of the men and women who have given sports its indelible image.
Iconic photographs include: Nat Fein's photograph of Babe Ruth saying farewell at Yankee Stadium, in 1948, soon before he died. Neil Leifer's photograph of Muhammad Ali standing over Sonny Liston, Lewiston, Maine, 1965.
---
Who Shot Sports: A Photographic History, 1843 to the Present will be on display at the Tampa Museum of Art through April 30. For more information and hours, call 813.274.8130 or visit www.tampamuseum.org.
---
© Tampa Bay METRO Magazine & Blog  |  A Metro Life Media, Inc. Publication
Share
About Author
(0) Readers Comments
I see ideas for my wife's birthday!

I can't wait to try a few of these recipes. Thx.