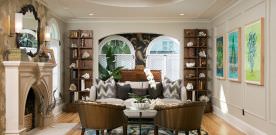 ---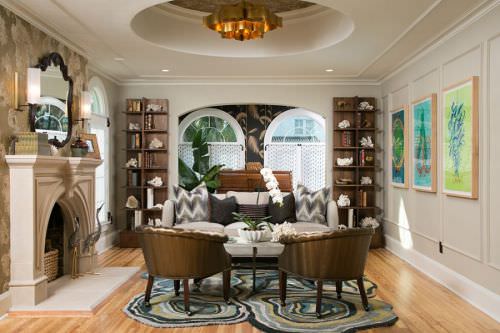 Couple Reclaims An Historic Pass-a-Grille Home With Flair
By Mary Lou Janson | Photography By Amy Lamb
One stands grandly on the glistening white sands bordering the Gulf of Mexico. The other occupies a waterfront parcel perched along the shores of Little McPherson Bayou. One is an historic hotel towering 10 stories above ground, capable of accommodating hundreds of guests and sporting a distinctive pink exterior. The other is a single-story, single family home distinguished by its stucco exterior and Spanish Mediterranean design. Located within the same St. Pete Beach community and constructed during the 1920s, the two structures would seem to have little in common. The common thread is that both are products of the same designing mind. The Don CeSar Hotel and a home less than a mile from that landmark, are the architectural offspring of Henry DuPont.
Henry DuPont built the more modest structure in 1925, likely living there at least part of the time he was supervising the rise of the luxury resort, affectionately known as the Pink Palace, that opened in 1928.
Both buildings have literally weathered many tropical storms,persevered through periods of neglect and withstood changes of owners and occupants throughout the years. The hotel, now a Four Diamond-rated resort, served as a military hospital and a regional office for Veteran's Administration. The house recently rented as a beach retreat.
Kathy Weatherly had her eye on the home ever since she and her husband, Rick, first started dividing their time between Wisconsin and a condominium near the Sunshine Skyway bridge. "I was an accidental Floridian," recalls Weatherly. "I traveled all over the U.S. for my company that made medical devices. I was staying at a hotel on Reddington Beach and fell in love with the area, the people, the color of the sky and the sun."
For seven years Weatherly watched and waited. Finally in 2014, when the house was for sale, she made her move and made it hers.
Inspections revealed extensive water damage, electric and plumbing were woefully outdated and a new roof was needed, among other things. Contractors tried to convince Weatherly that tearing it down and rebuilding made the most sense.
Fortunately, the new owners wanted to return the house to its former luster and live there; that meant adding a master suite and master bathroom to comfortably accommodate the couple. Walls had to be moved or removed to enhance the view and improve the flow. Adding windows was integral to inviting more light into the interior.
Enter Barry Flaherty of the St. Petersburg-based Flaherty Construction, an expert in historic renovation. Working closely with Flaherty was Nicholas Konzal, an acclaimed interior designer, who previously worked on two of Weatherly's Wisconsin homes.
Konzal said he quickly realized the project represented a rare chance to, not just create change, but to honor an era and pay homage to the architect.
"I knew what we could turn the house into and how to realize the vision," said Konzal, owner of the Milwaukee-based Nicholas Carl Design. "This is a classic, modern home, but in every room you are either living in or with history. This was an opportunity to preserve the dignity of the home."
It was a much more extensive renovation than anticipated. Nearly every stud had to be replaced. The original footprint was expanded to a 2,100-square foot area encompassing three bedrooms and 2 1/2 bathrooms. Floors were restored or replaced. A custom-made, wood-burning stone fireplace had to be shipped from Texas, installed and finished on-site. Tile from Spain, light fixtures from Italy, a metal front door crafted in California and an exterior mural commissioned from Gulfport artist Susanne Vernon, combined to create a classic, but contemporary look, that is interwoven with beach-inspired colors and textures.
"I wanted to focus the living area on the water," said Konzal. "This really beautiful interior opens out to the outdoor living area, which is right against the water. The floor plan offers waterfront views throughout the house. The proportions are beautiful, and we created a more private area in the back of the house, by adding an outdoor kitchen and dining area that are not within view of the street."
Attention has been paid to every detail. An antique dating to 1925 is in every room. Exquisite vintage tiles dating to 1925 still stored in their original boxes in an attic, were discovered online and now grace the side entrance steps and perimeter of the infinity pool. Original cement Cuban floor tiles lining the room Rick uses as an office, were sanded and restored. Heart of pine floorboards, in the master bedroom, were reclaimed from another local landmark hotel recently torn down, the Belleview Biltmore in Belleair. And the exterior stucco was expertly applied by hand, just as it would have been done in 1925.
"I bought the house to save the house," Weatherly added. "People stop by all the time to thank me for not tearing it down. I have restored the house and now I have the home I want."    M
Home Gallery
click on images to view enlarged or as a slideshow
---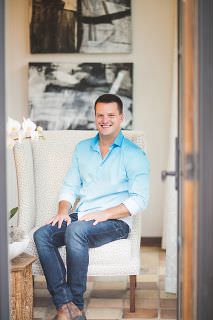 Nicholas Konzal
Interior designer and owner of the
Milwaukee-based, Nicholas Carl Design
© Tampa Bay METRO Magazine & Blog  |  A Metro Life Media, Inc. Publication
Share
About Author
(0) Readers Comments
I see ideas for my wife's birthday!

I can't wait to try a few of these recipes. Thx.