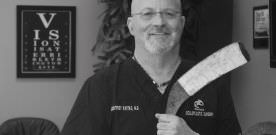 ---
| As Seen In Tampa Bay Metro Magazine |
The Face of Cosmetic & Reconstructive Eyelid Surgery
DR. GEOFFREY M. KWITKO  
Dr. Kwitko has been treating patients in Tampa for 26 years. He has developed a reputation for treating difficult eyelid, orbital and thyroid eye conditions. He's the number one choice for cosmetic and reconstructive eyelid surgery by Tampa's medical community and their families. Dr. Kwitko routinely teaches other surgeons at the prestigious American Academy of Ophthalmology meeting and wrote the chapter on eyelid reconstruction in Smith's textbook on Oculoplastic Surgery.
---
Geoffrey M. Kwitko, MD, FACS.
311 South Macdill
Tampa Florida 33609
813-877-8665
www.kwitko.com
---
Faces of Metro Tampa Bay ® 2017 | © 2017 Tampa Bay Metro Magazine & Blog | A Metro Life Media, Inc. Publication
Share
About Author
(0) Readers Comments
I see ideas for my wife's birthday!

I can't wait to try a few of these recipes. Thx.