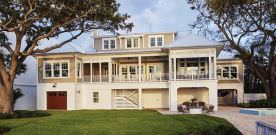 ---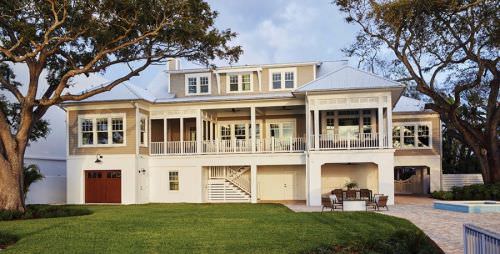 By Mary Lou Janson  |  Photography by Jean Allsopp
A beachfront condominium requiring a major makeover, prompted Drew and Kerri Hudgins to first contact the founders of Chancey Design Partnership nearly three decades ago. Acting on the recommendation of a mutual friend, the couple reached out to Walton and Sandra Chancey for guidance on gutting and re-constructing their Treasure Island home.
Immediately upon meeting the architect and interior designer, the Hudgins knew they had found the right firm — and the right folks — for the job. "We clicked. We talked for three hours during that first meeting," Kerri recalled. Both personal and professional relationships between the families have continued to flourish throughout the years.
Multiple homes owned by the Hudgins have since benefitted from the handiwork of the Chanceys. Design projects range from a lakefront home described as a "funky farmhouse," to the Hudgins Law Firm in Zephyrhills, where Kerri works as the office manager and Drew, an attorney, specializes in personal injury cases.
That's not to say it's strictly business when they get together. The couples have shared worldwide travels, tailgated at their mutual alma mater, Auburn University, admired, and acquired, art by South American painter, Sebastian Spreng, and gathered for birthday, graduation and holiday celebrations.
Familiarity and friendship have been a boon to their business dealings. Gone is the guess work that architects and interior designers typically face when drawing plans and drafting proposals. Instead,the added insight into their clients' preferences and personalities encouraged creativity and customization.
"Walt and Sandi are so talented,individually as well as together," said Drew. "And they know us so well that they know exactly what we want."
The latest residential collaboration closely connected the Hudgins to their roots while serving as a catalyst to bringing them literally, closer to the Chanceys.
A search for a waterfront home on Davis Islands a decade ago, not only brought Drew back to the area where he grew up, but also provided a view of Kerri's childhood home overlooking Bayshore Boulevard from their new backyard.
The move ensured their son Max would follow in his parents' paths to the same public schools they attended. And the address placed the Hudgins on the same street as the Chancey family.
When Drew and Kerri eventually decided it was time to demolish and replace that nearly 70-year-old residence, they naturally turned to their longtime friends, and now neighbors, the Chanceys. It was familiar territory for the Chanceys, who previously built five other new houses nearby and renovated four more.
The stunning three-story home finished last fall, is similar to others designed by Walt, that the Hudgins came to know and love, while visiting the Chancey's former vacation getaway in the Florida Panhandle community of WaterColor.
"We design for our clients, whether they want something traditional or ultra-modern. I designed the first two homes in WaterColor and knew that Drew and Kerri loved that architectural style," Walt said, describing the Davis Islands property as rooted in English Caribbean architecture, defined by big overhangs, lots of porches and a corrugated metal roof.
Two floors rise above a 2,600-square-foot concrete base featuring eight-foot high ceilings. That extra headroom within the enclosed, ground level floor easily accommodates cars, camping gear and a golf cart, plus provides additional entertainment space for the frequent friends and family gatherings the Hudgins host.
A key characteristic that the former house lacked were abundant, unobstructed waterfront views. By elevating the living space and providing unimpeded vantage points from windows, glass doors, porches and a free-flowing design connecting the kitchen to the dining area, main living room and master bedroom, practically every room overlooks the water.
Sandra knew Drew's signature phrase, "water, water, water," was a mantra referring to the power of water to invigorate both mind and body. While Walt optimized waterfront views throughout the interior, Sandra cleverly incorporated Drew's phrase into the tiled shower wall of the master bathroom. She also integrated new, antique and salvaged elements, like river-recovered Georgia pine, for flooring, finishings and furnishings to reflect the natural beauty of the bayside lot and create a casual, comfortable and cohesive look. Family heirlooms include a hand-carved canoe created by Kerri's great great uncle in 1908, that is suspended from the ceiling of the family room and a grand piano her father played that is prominently displayed in the foyer. "Because we are an architecture and interior design firm, it was extremely important to respect and follow the architectural vocabulary inside to reflect the outside," said Sandra, noting that the siding on the exterior also lines the walls of the foyer and complementary colors are used indoors and out.
The emphasis on water is expressed throughout the interior decor in various ways, from the blue-hued bases of table lamps, to the water colors featured in original art that is part of the Hudgins' private collection. "Water, water, water. That is what the spirit of the house is," Sandra added.     M
Gallery
click on images to enlarge or view as a slideshow
---
Chancey Design Partnership/Chancey Interior Design
www.chanceydesignpartnership.com
DCS Contracting LLC
www.dcscontractingllc.com
---
© Tampa Bay METRO Magazine & Blog  |  A Metro Life Media, Inc. Publication
Share
About Author
(0) Readers Comments
I see ideas for my wife's birthday!

I can't wait to try a few of these recipes. Thx.